Oil Cooled
Cathodic Protection Rectifiers
Heavy-duty, rugged rectifiers for operation under severe conditions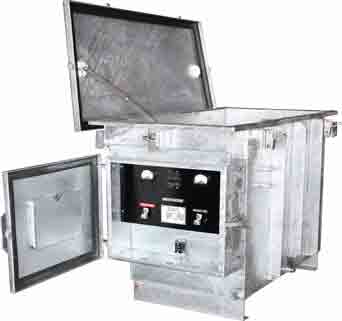 Non Hazardous
Locations (Standard)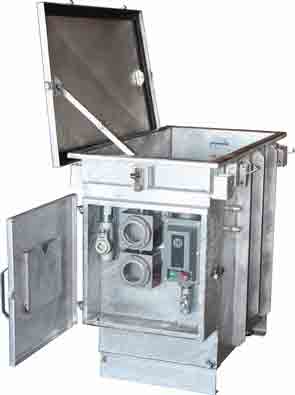 Hazardous Locations
The "oil cooled" cathodic protection rectifiers, are recognized as industry leading in quality, workmanship and service life. Many years of field-proven service have led to the superior design of these rectifiers. Conservative equipment ratings, controlled manufacturing techniques, plus many extra features ensure long and trouble-free operation.
Typical cathodic protection applications for the oil cooled rectifier line include severe environmental conditions due to high humidity, dust, or other situations that would shorten the life of a standard air cooled rectifier.
Hazardous location models are used for Class 1, Div. 2, Group D locations and comply with U.L. Standard 698. While similar to the standard oil cooled rectifiers, the explosion proof units are fitted with special hazardous area fittings to eliminate possibility of an ignition source.
Standard Features
Oil Cooled
Heavy duty 11 gauge hot dip galvanized cabinet with hinged top lid and stainless steel hardware.

External cabinet fins for added strength and cooling.

Heavy duty, draw-pull, stainless steel cabinet latches.

Separate instrument compartment with hinged door and stainless steel hardware.

Separate lift-out component racks for the transformer and rectifier stack.

Heavy duty transformer with 15% over design for reserve capacity.

Minimum 18-step voltage control link bar taps.

Quick-change heavy duty knobs for changing tap link bars.

Minimum 5/16" diameter, solder tap changing studs

3/16" Grade XX, Phenolic panels

AC Input circuit breaker

Magnetic AC secondary circuit breakers on all units less than 100 amps (instead of fuses)
Hoyt, separate analog, 2-1/2" round, volt and amp meters

Silicon diodes protected by surge suppressors and current limiting breakers < 100 Amps or fuses

All electrical connection hardware is Nickel Plated and double-nutted or soldered

Multi-strand, high temperature, insulated flexible wiring

Terminal block for AC input wires (Non-Hazardous models only)